When it comes to planting in our crazy Calgary climate, sometimes we can experience extreme weather changes which can be costly if you're not picking plants that can survive in our location. Walk into any garden centre and there is a vast spectrum of perennials to choose from. Some thrive in Calgary better than others. But how to choose the right one for your garden oasis? Firstly, one important fact you should know is that in 2016 Calgary's hardiness zone was moved from a 3b to 4a. This change increased the variety of perennials that you can plant.  Most garden centres will carry plants that range in zone from 2 – 7, so be conscious of the choice you make and the zoning of your plant. The lower the number means the plant will survive in harsher climate, the higher the number the milder the climate.
Secondly, take the time to evaluate your garden to know your sunny and shady areas. Choosing the right plant according to exposure is just as important as zoning. Full sun generally indicates six or more hours of sunlight per day. Partial Sun or Partial Shade plants get the morning or evening sun, or a lot of shade in the morning followed by a strong midday sun and then subdued sunlight. Full Shade plants do best in a protected area with a sprinkling of sunlight throughout the day. Tall perennials can provide the shade and protection that these types of plants require. Perennials are plants that die back to their crown every fall but are strong enough to survive the Calgary winter and grow back in the spring. These lovely plants can make gardening in the spring a lot easier and reduce the amount of work most of us face. There are plenty of perennials that will flourish in the Calgary area. Our landscape designers have put together a list of their favourites.
A good rule of thumb is to choose a thriller ( taller plant at the back ) and filler next ( mid height ) and spiller ( creeper or ground cover ) down in front!
Do you have an area that gets full sun? 
There are over 50 sun loving plants for our zone but here are a few suggestions we like. Take your time and see what tickles your fancy. Remember to think of height and spread of your plants. Incorporate some sizeable stones or garden art to add interest to your space.
Fire Witch' Dianthus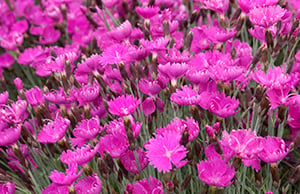 Bright pink flowers with a clove-like fragrance create a beautiful contrast to the grass-like silvery and blue green foliage. Blooming from late spring to fall, this variety of dianthus holds up well against heat and humidity. It is an excellent choice for colour all season long. It's great at the front of a border or nestled among the rocks as it grows about 20 cm tall and 30 cm wide.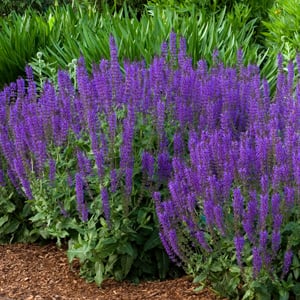 May Night Salvia
Salvia has dense spikes of indigo blue flowers stand tall above a mound of soft, green foliage. This award winning perennial is a top performer in any landscape. Aromatic and dramatic, the plant thrives in full sun with cooler temperatures overnight. Easy to care for, it holds up well to heat, drought, deer and rabbit making it one of the more versatile perennials.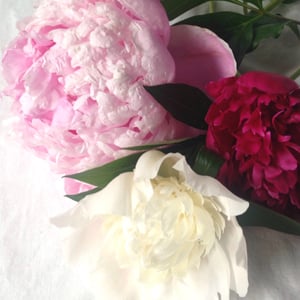 Common Peony
One of the most infamous and dearly loved perennials. Peonies have a beautiful fragrance and a sumptuous beauty. Easy to grow and trouble-free, peonies are know to bloom for a 100 years or more which is why you can find them in some of the oldest communities in Calgary. There are a variety of colours to choose from and their foliage transforms in colour during the fall. Truly a lovely addition to any garden.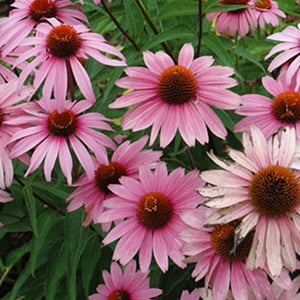 Magnus Purple Coneflower
A show stopper with its bold, giant flowers whose rosy purple petals lay horizontal rather than droop like most coneflowers. Blooming from midsummer to early autumn, it attracts bees and butterflies and is know to be deer and rabbit resistant.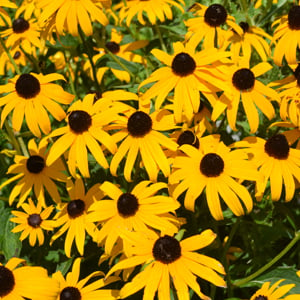 Goldsturm Black-Eyed Susan
One of the most popular native wildflowers to grow. The bright, daisy-like golden yellow flowers are ideal for cut flowers in any home. In addition they tolerate heat, humidity and clay soil. Great in containers, borders, a cutting garden or woodland garden.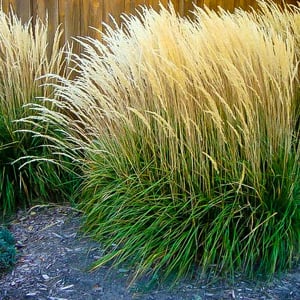 Karl Forester Feather Reed Grass
Create stunning drama with the vertical effects of feathery stalks that start off a reddish brown hue and turn a rich golden colour in the fall. Its stiff upright performance makes it a reliable perennial ideal for hedges and backdrops. Reed grasses thrive in wet soils and yet will tolerate drier conditions. This variety blooms two to three weeks earlier than other reed grass.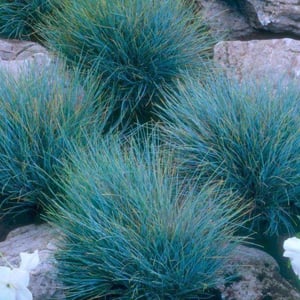 Elijah Blue Blue Fescue
With excellent colour retention all season long and stiffer fine foliage with pronounced seed fronds, it is one of the best varieties of Blue Fescue to choose. A dome-shaped soft-powdery blue habit and tall attractive tan seed heads, this perennial is sometimes called the sea urchin on land. This charming plant works well in rock gardens and at the base of tall shrubs or perennials to help blend them into the landscape.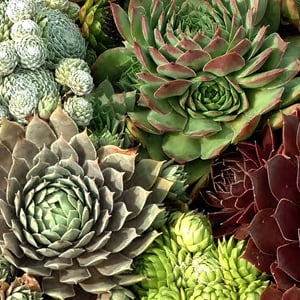 Hens and Chicks
Add an exotic flare with a colourful mound of large succulent rosettes. With a variety of colours to choose from, this perennial is ever-expanding its brood of chicks. Little 'chicks' can be pulled off and transplanted elsewhere in containers, borders, rock gardens or nestled in amongst other perennials to add texture, drama and interest.
---
Shade loving plants that will give you pop
Shade loving plants doesn't mean dull or colourless! There are plenty of plants that thrive in a shady environment and here are some of our picks. When you go into the garden centre, shade loving plants will typically be covered above by a canopy of some sorts to protect them from the sun.  If you are unsure about something you like, be sure to talk to the specialist about your particular garden space.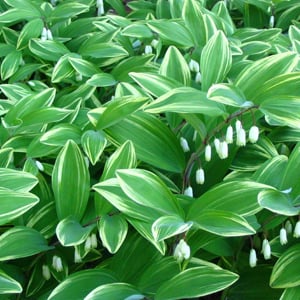 Variegated Solomon's Seal
Loving a moist shady location, this classic perennial with charm you will its dainty perfectly spaced white bell flowers which hold a lovely fragrance. Continuously impressive, it transforms its green or white variegated foliage in the summer to a bright golden hue in the fall. Another great choice as a native plant to North America.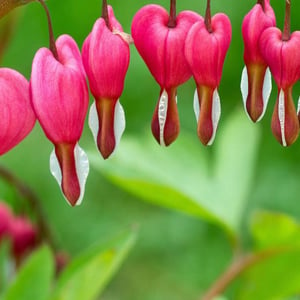 Old-fashioned Bleeding Heart
A timeless classic with pendulous flowers on slender stems with a fern-like foliage. The dangling heart-shaped blossoms stand out in any shade garden. Found in almost every family garden regardless of generation, nothing surpasses the graceful beauty of this historic perennial with its stunning arching 1 m stems.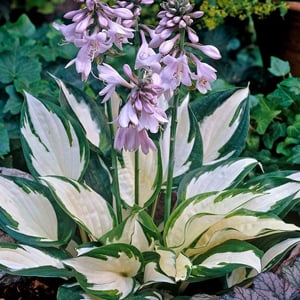 Hostas
Very popular, this versatile East Asian native is a guaranteed winner. A diversity of colours, heights and textures accompanied with lush foliage, the hosta captures the heart of all gardeners. It has showy spikes of lavender flowers, some are fragrant, and an ability to survive well in deep shade but does require more watering than most shade loving perennials.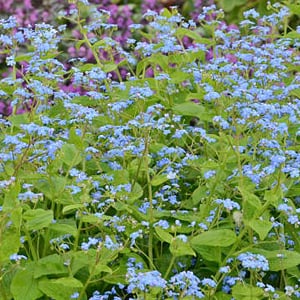 Brunnera Jack Frost
Eye-catching and distinctive with brilliant silver leaves contrasted by bright green veins. Use in masses to create a shimmering ground cover or individual plants which make a perfect accent in gardens. Featuring a mist of small sky blue forget-me-not flowers in the spring, this perennial will make a spectacular addition to any shade garden.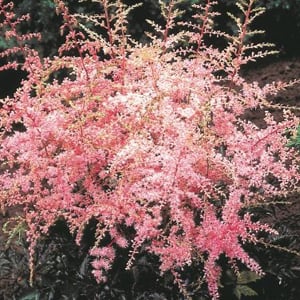 Sprite Astilbe
Graceful elegance with flowers that move with the slightest breeze. A lush foliage that remains attractive all season long and is deer resistant, the astilbe is considered essential to any shade garden. A fantastic way to add colour and texture with beautiful plumes of pink, showy flowers in early spring and a glossy fern-like foliage.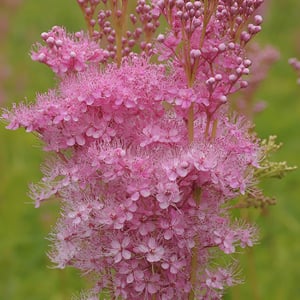 Queen of the Prairie
A consistent performer blooming in June and flowering over an extended period. Lovely pink double blossoms on feathery plumes stand atop of deep green ferny foliage. Often underused, it is a great low to almost no maintenance perennial. Quite happy and carefree as a border plant to create a striking backdrop.
---
What if you get both sun and shade?
These plants will serve you well in your garden. They are versatile and can handle both sun and shade. They are tons of plants that work well but these are some of our favourites.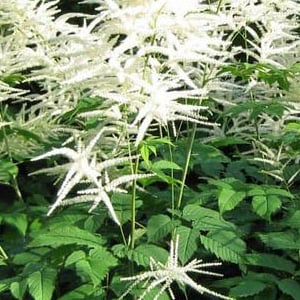 Goat's Beard
Giant fern-like leaves display frothy, creamy white flowers similar to astilbe blooms. This perennial is a large, strong plant with stems that are so strong they can withstand tornado force winds. Although it is a slow grower and may not reach its full size for several years, goat's beard can live for 100 years or more in the same spot.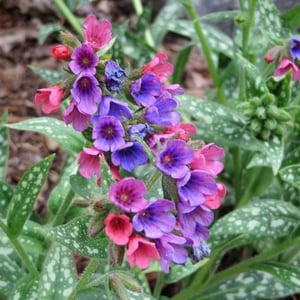 Lungwort Mrs Moon
Silvery, lung-shaped spots adorn the foliage which is how this perennial earned its name. A plant that is attractive all season and will tolerate morning sun, but needs shade in the afternoon to avoid scorching the leaves. Lungworts are wonderful plants that thrive well under deciduous trees or along woodland pathways and are excellent with bulbs.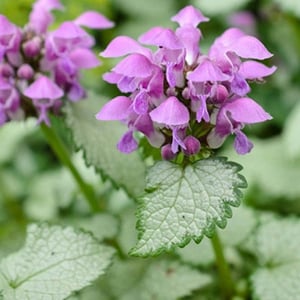 Lamium
Ideal as a ground cover. Dainty snapdragon-like flowers range from white, to pink to purple, and re-bloom on and off again throughout the summer offering months of colour. Even when not in flower, the lamium's delightful two-toned foliage provides interest and texture. Vigorous but not invasive, lamium's make a beautiful eye-catching ground cover.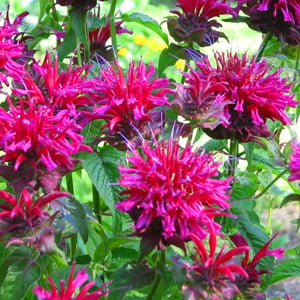 Grand Marshall' Bee Balm
If you are looking to grow a pollinator garden then this prairie native is the one for you. Also called wild bergamot, this perennial will explode with very large frilly red flowers at the beginning of summer. The flowers will attract butterflies, hummingbirds and bees plus the seed heads will call to birds in the fall and winter. A whimsical jesture of hat-shaped blossoms will add playful shapes and textures to your garden.
Siberian Iris
Easy to grow, this iris has no beard, so do not confuse it with the popular bearded iris. This plant needs very little care and offers soft, grass-like foliage with delicate flowers. Standing several metres tall, one plant can impressively send out more than 20 stems of flowers at once which make for beautiful cut flowers within any home. Able to withstand wind, rain and cold, this hardy plant's bloom season will last from April to early summer.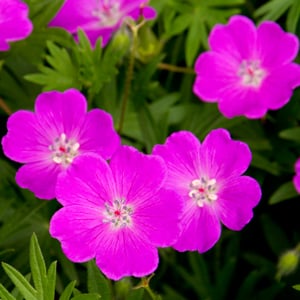 Bloody Cranesbill
Stunning and bright magenta flowers jump out against a rich, green deeply lobed foliage. Quickly filling the gaps to form a lush mounding ground cover, it is ideal for defining pathways and softening hard edges. Blooming from late spring and all the way up to frost, the lacy foliage transforms into a bronze-like red in autumn.
This compilation is just a glimmer into all the outstanding and wonderful perennials that you can grow in your garden to create a truly magnificent oasis. Try some of our landscape designers favourites or consult a garden expert at one of your local garden centres to see which plants will work best with your garden. Most of all have fun and enjoy expressing your creative side through the world of plants. Some of these gorgeous plant images were found at the following gardening sites.
Check them out : Gardenia.net, monrovia.com  & connon.ca